Calendar
There are no upcoming events to display at this time.
Support Trackside with Amazon Smile
With the button above, you can shop for all your favorite things through Amazon.com and support Trackside Theater at the same time. With this link, Amazon will donate 0.5% of the price of eligible smile.amazon.com purchases to Trackside Theater. Thank you!
Have a question? Send us an email.
Recent News About Auditions & Shows
Categories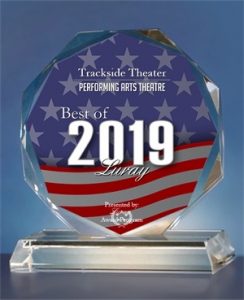 COVID-19 and Trackside
As many of you know, because of the pandemic, we have been unable to put on shows since Steel Magnolias ended in March 2020.
We are planning to do our first show again, with all appropriate cautions in place (limited seating, masks required) at the end of August.
However, our coffers are low, and our rent is due.
Bob Baker, one of our founders, former board member, and set designer/builder is running a funraiser for Trackside through Facebook.
Would you consider clicking the button above and donating a few dollars to help Trackside Theater survive the repercussions of COVID-19? Your money will go to help pay rent and utilities for our space and keep the theater alive.
Thank you so much!
Email Updates
SUBSCRIBE
to our monthly newsletter to stay up-to-date on performances, auditions, and special events.