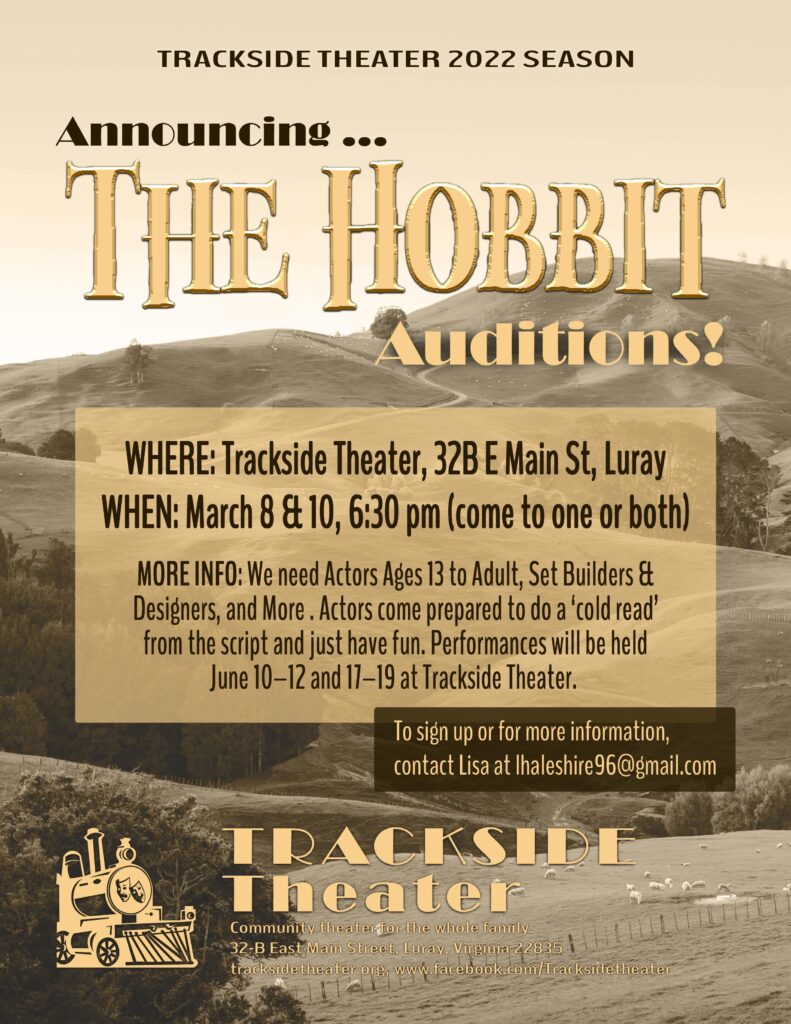 Times
6:30 pm, Tuesday, March 8, 2022
6:30 pm, Thursday, March 10, 2022
*Come to one or both
Location
Trackside Theater, 32 E Main St, Luray, Virginia 22835
Performance Dates
Friday & Saturday, June 10 and 11, 2022, 7:30 pm
Sunday, June 12, 2022, 3:00 pm
Friday & Saturday, June 17 and 18, 2022, 7:30 pm
Sunday, June 19, 2022, 3:00 pm
About the Play
"It's unusual for a modern work to become a classic so quickly, but Tolkien's "ring" stories, which began with The Hobbit, clearly are in this very special category. They stir the imagination and intellect of everyone they touch. Bilbo, one of the most conservative of all Hobbits, is asked to leave his large, roomy and very dry home in the ground in order to set off as chief robber in an attempt to recover an important treasure. It's the last thing that any sensitive Hobbit would want to do, but great benefit eventually results—not only for Bilbo but for all of the Hobbits who inhabit Middle Earth—and the hearts of those children and adults who continue to enjoy this kind of magic." (from dramaticpublishing.com)
Directors: Lisa Aleshire & Barbara Baker
Actors Needed
Casting actors ages 13 to adult for various roles and extra parts. Come prepared to do a 'cold read' from the script and just have fun.
Crew Needed
We are also in need of set builders and designers, artists/painters, and sound engineers to help us produce this play.
Questions?
Send us a PM on Facebook Messenger or email us at info@tracksidetheater.org.