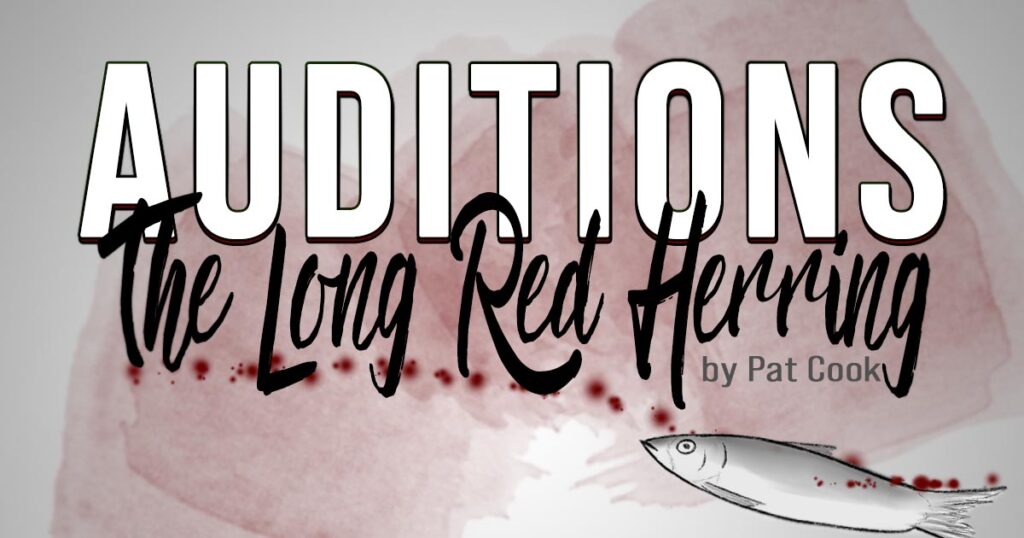 Audition Times
6:30 pm, Wednesday, August 10, 2022
6:30 pm, Thursday, August 11, 2022
*Come to one or both
Location
Trackside Theater, 32 E Main St, Luray, Virginia 22835
Performance Dates
Friday & Saturday, October 14 & 15, 2022, 7:30 pm
Sunday, October 16, 2022, 3:00 pm
Friday & Saturday, October 21 & 22, 7:30 pm
Sunday, October 23, 2022, 3:00 pm
About the Play
"Professor Kleine, a creative literature instructor, has a rather unusual final exam. He sets up a murder in his own home and has his students try to solve it. After they are dropped off at the professor's house and told not to "tear up any wallpaper or make any long-distance calls to Bangkok," they begin the assignment. Somewhere along the way, however, one of the students begins to wonder if it really is just an assignment or a real murder has taken place. After all, no one has seen the professor's wife in some time. And some of the clues, such as a bullet hole in a man's jacket, look frighteningly real. Slowly, each of the participants begins to suspect the other, especially when one of them is murdered...or was she? Did the professor do it? Or maybe the brainy Kate. Maybe it was the shy Mary Jane who keeps apologizing for everything. Or Bojo, the jock who's only out for a late snack in the kitchen. But when another student is killed, it really gets serious. Part of the final? Or actual homicides. Who is really dead? And who is the murderer? The surprising ending will simply kill you!" (from Dramatic Publishing)
Directors: Barbara Baker
Actors Needed
Teens or Young Adults: Three males and five females. Come prepared to do a 'cold read' from the script and just have fun.
Crew Needed
We are also in need of stage crew, set builders and designers, artists/painters, stage help, and light and sound engineers. to help us produce this play. Training available!
Questions?
Send us a PM on Facebook Messenger or email us at info@tracksidetheater.org.