Auditions for Sense and Since-A-Hillbilly, May 6 & May 11, 2021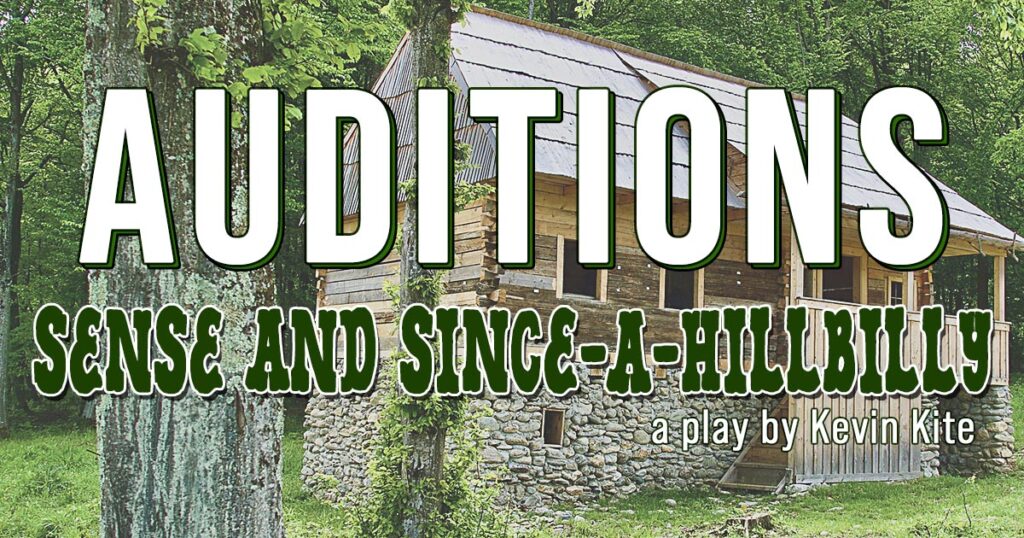 Times
5:30 pm, Thursday, May 6, 2021
5:30 pm, Tuesday, May 11, 2021
*Come to one or both
Location
Trackside Theater, 32 E Main St, Luray, Virginia 22835
Performance Dates
Friday & Saturday, September 3 & 4, 2021, 7:30 pm
Sunday, September 5, 2021, 3:00 pm
Friday & Saturday, September 10 & 11, 2021, 7:30 pm
Sunday, September 12, 2021: 3:00 pm
About the Play
Thomas Morehouse is a college student working for the summer, against his wishes, as a part-time census-taker. When his car breaks down and his cell phone coverage fades in a remote part of the state, he distractedly starts walking. After wandering several miles, he stumbles upon the Bennett property.Bogey Bennett runs a secret moonshine operation that supplies over half the surrounding area with corn liquor. He is a widower who is raising four daughters.Bogey feels threatened by Thomas, thinking he has been sent to find his still, but in the process discovers an opportunity to marry off one of his daughters to this well-to-do young man. Trouble is, Thomas has eyes for Bogey's feisty niece, but the feeling may not be mutual.Bogey tries to keep Thomas away not only from his operation, but from his niece, too. Throw in an escaped convict, some wacky neighbors, a nosy sheriff, and lots of misunderstanding for a true sense of backwoods fun.
Director: Lisa Aleshire
The Characters
BOGEY BENNETT: Middle-aged hillbilly father of three girls who runs a secret moonshine operation. Gruff, untrusting, and rough around the edges.
PANSY BENNETT: Oldest daughter. Tomboy, "field and stream" type. Eager to please her father by acting like she's a chip off the ole' block.

PETUNIA BENNETT: Bogey's middle daughter. Hillbilly drama queen. Perky but brainless. Likes to draw attention to herself.

DAISY BENNETT: Youngest daughter who is mute from a childhood trauma. She carries a teddy bear wherever she goes and tends to follow her sisters.

MARY BENNETT: Bogey's niece who came to live with the family after her parents' deaths. Intelligent, somewhat a dreamer, but can be very independent and feisty.

THOMAS MOOREHOUSE: College-age. Somewhat spoiled, and narrow in his views. But can be caring and sensitive if need be.

PEACHY ANNE: Middle-aged widow raising a small army of children. Chatty, strong, independent-type woman who finds it hard not to be a mother to all.

SHERIFF ED BROWN: Middle-aged man who knows more about what's going on than he puts on. Laid-back, but is a straight shooter with others.

VERNON: Highly animated friend of Bogey. Chief business partner in the moonshine operation.

SHORTY: Diminutive fellow with a tendency to put his foot in his mouth.

VIRGIL: Another of Bogey's friends

LUCIUS FARLEY: Escaped convict from local correctional facility. Rather large, intimidating individual

ROBERT MOOREHOUSE: Well-to-do businessman type, but rather easy-going

CONVICT

Children (extras)
Crew Needed
We are also in need of set builders and designers, artists/painters, and sound engineers to help us produce this play.
Questions?
Send us a PM on Facebook Messenger or email us at info@tracksidetheater.org.